GET THE MOST OUT OF YOUR MOVIES AND MUSIC IN POMPTON PLAINS AND WAYNE, NJ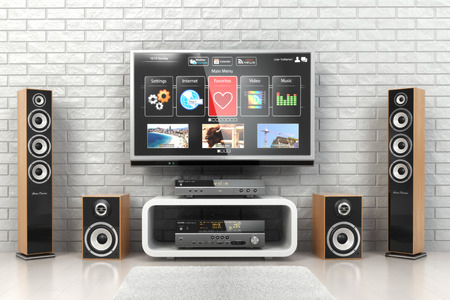 You enjoy hosting parties to watch the big game in your Pompton Plains and Wayne, NJ area home, but the experience could be a lot better. A larger, high-definition TV would allow more guests to see what's going on at different vantage points. A surround sound system would make the sounds of the cheering crowd and the referee calls so close and realistic you'll feel like you're really at the stadium. Prestige Audio Video can bring the game to you with improved audio and video equipment.
Call (973) 931-9441 now to learn more about our audio/video services!
3 Ways to Improve Your Entertainment System with Audio/Video Equipment Installations
If you want to take your entertainment system to the next level, tell us what you want, choose from some of our partnered brands and we'll run the cables and make the connections so you don't have to. With our services, you can look forward to:
Listening to your favorite bands in excellent quality with a new stereo system
Feeling closer to the movie you're watching with a surround sound system
Watching your favorite films in the best quality available with a high-definition TV
Choose Prestige Audio Video to bring epic sound and video to your Pompton Plains and Wayne, NJ area home.